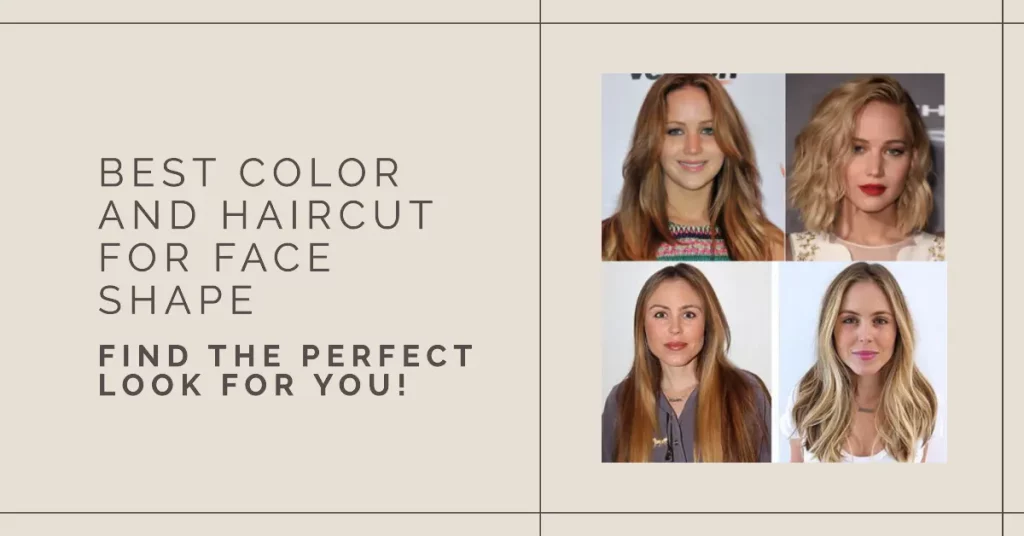 Introduction to Face Shapes and Haircuts
Your face shape plays a significant role in determining which haircut and color will flatter you the most. By understanding your face shape, you can make better choices when it comes to hairstyles, and ultimately, boost your confidence. In this article, we will discuss how to identify your face shape, choose the right haircut, and select the perfect hair color. So, let's dive in!
Identifying Your Face Shape
There are five common face shapes: oval, round, square, heart, and long. To determine your face shape, you can follow these simple steps:
1. Pull your hair back and away from your face.
2. Look straight into a mirror.
3. Observe the width of your forehead, cheekbones, and jawline, as well as the length of your face.
Oval Face Shape
An oval face shape has a slightly wider forehead, with the width of the face gradually narrowing towards the chin. The face length is about one and a half times the width. Krysta Kay, a renowned hair stylist, can help you identify your face shape during a consultation.
Round Face Shape
A round face shape is characterized by full cheeks and a rounded chin, with the width and length of the face being almost equal.
Square Face Shape
Square faces have a strong, angular jawline and a broad forehead. The width and length of the face are roughly the same.
Heart Face Shape
A heart face shape features a wide forehead and cheekbones, with a narrower jawline and a pointed chin.
Long Face Shape
Long faces have a more elongated appearance, with a high forehead and a longer chin.
Choosing the Right Haircut
Now that you have identified your face shape, let's explore the best haircuts for each type.
Haircuts for Oval Faces
Oval faces are considered the most versatile when it comes to haircuts. You can pull off almost any hairstyle, from long layers to short pixie cuts. However, avoid heavy bangs or anything that can make your face appear shorter.
Haircuts for Round Faces
To create an illusion of length and balance, opt for haircuts with layers and angles. Long, side-swept bangs can also help elongate the face. Avoid short, blunt bangs or one-length hairstyles that can accentuate roundness.
Haircuts for Square Faces
For square faces, choose hairstyles that soften the angles, such as long layers, soft waves, or rounder shapes. Side-swept bangs can help reduce the appearance of a wide forehead. Avoid blunt bobs or very short, severe cuts that can emphasize the squareness of the face.
Haircuts for Heart Faces
To balance a heart face shape, opt for haircuts that add volume around the jawline and chin, such as a long bob or soft layers. Avoid heavy bangs or cuts that emphasize the forehead and cheekbones.
Haircuts for Long Faces
To create an illusion of width and balance a long face, choose haircuts with layers and volume on the sides, such as shoulder-length cuts or soft waves. Blunt bangs can also help shorten the face. Avoid extremely long or short styles that can elongate the face further.
Selecting the Best Hair Color
Your skin tone plays a crucial role in determining the best hair color for you. There are three main skin tones: warm, cool, and neutral. You can determine your skin tone by examining the veins on your wrist. If they appear green, you have a warm skin tone; if they appear blue or purple, you have a cool skin tone; if it's hard to tell, you likely have a neutral skin tone.
Colors for Warm Skin Tones
If you have a warm skin tone, opt for hair colors with warm undertones, such as golden blonde, honey brown, or auburn. Krysta Kay offers a wide range of hair color options for warm skin tones.
Colors for Cool Skin Tones
For those with cool skin tones, choose hair colors with cool undertones, like platinum blonde, ash brown, or cool black. Check out Krysta Kay's color and haircut services in Santa Barbara for more options.
Colors for Neutral Skin Tones
If you have a neutral skin tone, you're in luck! Most hair colors will complement your complexion. Feel free to experiment with different shades to find the one that suits you best.
Conclusion
Selecting the best color and haircut for your face shape is essential for enhancing your appearance and boosting your confidence. By understanding your face shape and skin tone, you can make informed decisions when it comes to haircuts and colors. Don't hesitate to consult a professional, like Krysta Kay, for personalized advice and guidance.
FAQs
1. How can I determine my face shape at home?
Pull your hair back, look straight into a mirror, and observe the width and length of your face, as well as the shape of your forehead, cheekbones, and jawline.
2. Can I change my hair color if I have had a Brazilian blowout?
Yes, you can change your hair color after a Brazilian blowout. Just make sure to consult a professional, like Krysta Kay, to avoid damaging your hair.
3. How often should I change my hair color?
It depends on your personal preferences and hair type. Consult a professional to discuss your specific needs and maintenance schedule.
4. Are hair extensions suitable for all face shapes?
Yes, hair extensions can enhance your look regardless of your face shape. Krysta Kay offers hair extension services in Santa Barbara that can be tailored to suit your individual needs and preferences.
5. How can I maintain my hair color and haircut between salon visits?
To maintain your hair color and haircut, use color-safe shampoos and conditioners, avoid heat styling as much as possible, and get regular trims to keep your haircut looking fresh. You can also consult Krysta Kay's pro tips for caring for newly colored hair for more guidance.