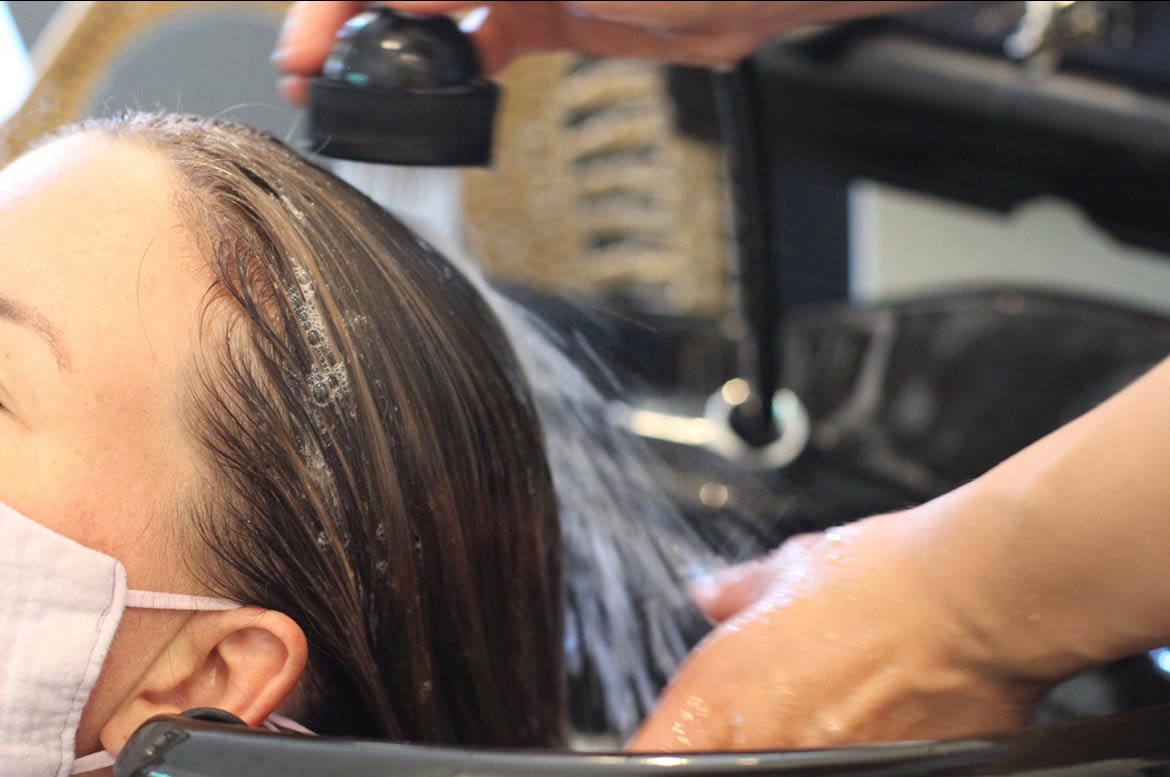 Brazilian Blowouts in Santa Barbara
Brazilian Blowouts
Welcome to Hair by Krysta in Santa Barbara where I specialize in Brazilian Blowouts!
The benefits of this treatment are numerous! It reduces blow drying time significantly, eliminates frizz for up to 12 weeks, nourishes and hydrates the hair for improved overall health and shine, helps protect against humidity and heat damage from styling tools and products, and makes styling easier than ever before.
I would love to work with you to create your ideal look while maintaining the health of your hair. Please contact me today to book an appointment – I look forward to helping you achieve beautiful results with Brazilian Blowouts!
Why Brazilian Blowouts are so Popular
Great for all hair types – wavy, curly, straight, frizzy.
Can be used on highlights as well. It is conditioning the hair while sealing the cuticle for enhanced color, reduced frizz and radiant shine.
Customizable to keep the amount of curl you want while still eliminating frizz
Can color your hair prior to a Brazilian blowout service in the same day
Helps cut down on blow-dry time
The best part, unlike other smoothing treatments, there is no waiting period. You can workout, put your hair in a ponytail or clip or even shower in the same day!
Brazilian Blowout Pricing
Full Service: $250+
---
This full service Brazilian Blowout is designed to eliminate frizz, enhance color, reduce styling time, and leave your hair with a radiant shine. Our knowledgeable staff will tailor the treatment to your individual hair type and desired style.


Partial Service: $150+
---
This partial Brazilian Blowout is designed to reduce frizz and add some shine to your style. It is perfect for those looking for a less dramatic result or who have had the treatment before. Our experienced professionals will customize the treatment for your specific hair type and desired look.
I cannot believe how beautiful a day my daughters wedding was. I called Krysta in a panic because our MUAH team was stuck on the other side of the road... read more closure. She pulled together both hair and makeup for me in one day and made time for 3 of us. You and Leah made our time so fun and relaxing. You knew exactly what we wanted and our pictures of this day will forever be perfect! Thank you from the bottom of our hearts!

Gena R.


1/19/2018

Krysta is great! I recently moved to Santa Barbara and found Krysta through Yelp - she gave me lovely balayage and a very flattering haircut. The salon is cute, clean,... read more and everyone was very nice! I will definitely be returning!

Allie E.


9/28/2017

Krysta is literally the sweetest human and the most talented hairstylist I have ever had. I've had platinum hair for about a year and a half but I started growing... read more out my roots which are BLACK and they eventually got so long this I wanted to do something about it. I went to many stylists in southern california and no one was able to successfully blend the black and white colors evenly and to make it look more natural, until I found Krysta and she made sure my hair looked flawless. She wanted to make sure it looked the way I wanted and the way she wanted and we ended with an amazing color! I'm really happy with her work and will continue getting my hair done by her!!!

Alaska Y.


1/19/2018

Great cut - Krysta listened to me and gave me exactly what I asked for, a blunt lob. Very sweet and fun to chat with. Definitely recommend!

Liz L.


11/15/2017

Krysta did such an amazing job on my hair!!! I started from black virgin hair and got a beautiful ashy brown balayage! I knew I could trust Krysta with my... read more hair from the start and she was so sweet and patient with me being new to coloring hair and answered all the questions I had.
They recently redid their salon so it's really beautifully decorated and clean. I was offered coffee, tea, or water and I never felt uncomfortable or unattended to.
I was worried the appointment would eat up a lot of my day but it only took about 2.5 hours, and I really appreciated that the service was within my spending budget.
I'm ecstatic to wear my new hair around! Thank you Krysta!!

Casidy C.


10/05/2019

I just can't even begin to explain the absolutely amazing experience I've had with Krysta. First off, she fit me into her schedule quickly. That already deserved 5 stars. Then,... read more she decided to bust out the greatest hair artistry I've ever seen and transformed my hair that was dead, multi-toned, and clearly a quarantine hair disaster to EXACTLY what I wanted and even more! That deserves more than 10 stars. The thing that makes her deserve a million stars more than Yelp will allow me? It's her ability to make you feel beautiful inside AND out. You don't walk out of her salon the same person, but so much more free and confident. Krysta is an honest professional and you can really tell she cares about her clients with how attentive she is to her work. I cannot thank her enough for how beautiful she made me look and feel. I am now a loyal client and trust her with all my hair needs! I'm just so ridiculously happy with my hair and have been smiling all day!

Joyce Z.


1/30/2021

A huge shoutout to Krysta for giving me such a beautiful updo for a wedding I was attending. Besides being extremely talented with any and every service she does on... read more hair, she is the sweetest, most genuine person! You'll honestly never be bored sitting in her chair. I can't wait to come back and see what other amazing creation she comes up with!

Catalina M.


12/14/2017

This is a late review, but Krysta did such an amazing job on my hair! I love it! I'll be back for sure 🙂 it was exactly what I wanted... read more my highlights turned out perfect! Thanks Krysta! Im so glad I found her!

Lu M.


12/17/2017

Krysta is the absolute best!!! I went in to get my hair styled before a wedding and couldn't be more pleased with the work. She is so thoughtful and a... read more great listener to exactly what her clientele wants!  She took the time to change things when it wasn't exactly what I envisioned. Would highly recommend her to anyone looking to get their hair styled! Will absolutely be revisiting whenever I have an event in the area.

Sara P.


10/04/2019