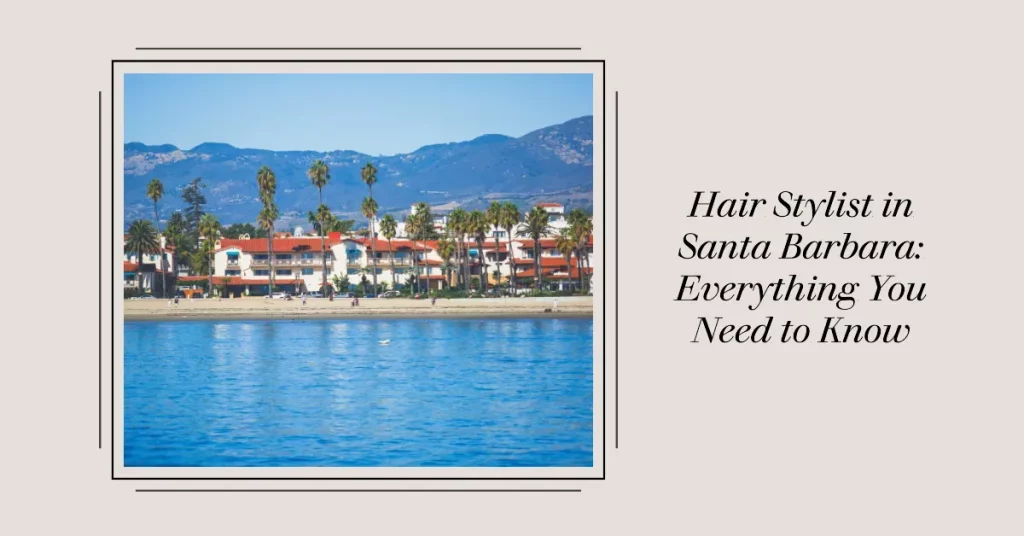 When it comes to hair care, having a reliable hair stylist is essential. Not only can they help you achieve your desired look, but they can also provide expert advice on hair maintenance and recommend products that suit your hair type. If you're living in Santa Barbara or planning to visit, this guide will provide you with everything you need to know about finding the best hair stylist in town.
Introduction: Why finding a good hair stylist matters
Finding the right hair stylist can make all the difference in achieving your hair goals. A good hair stylist will not only provide you with expert hair care, but also take into account your individual preferences and lifestyle. They will be able to guide you on the best haircuts, styles, and products that suit your hair type and face shape. Additionally, a skilled hair stylist can help you maintain healthy hair and prevent damage caused by harsh weather conditions, which is particularly important in Santa Barbara's hot and dry climate.
What to look for in a hair stylist
When choosing a hair stylist, it's important to consider their experience, education, and reputation. Look for a stylist who has undergone proper training and has several years of experience in the industry. It's also a good idea to read reviews and ask for referrals from friends or family who have had positive experiences with a particular stylist or salon. Make sure to ask for a consultation before booking an appointment, to ensure that you feel comfortable with the stylist and that they understand your hair care needs.
Where to find hair stylists in Santa Barbara
There are several ways to find hair stylists in Santa Barbara, including online directories, social media, and word-of-mouth referrals. Yelp, Google, and Facebook are popular platforms to find reviews and contact information for hair salons and stylists in the area. Many salons also have their own websites where you can view their services and book appointments online.
Best haircuts and hairstyles for Santa Barbara's climate
Santa Barbara's hot and dry climate can be harsh on hair, making it important to choose a haircut and style that is both practical and flattering. Some popular options include:
Bob or lob: A short to medium-length bob or lob is a great choice for those who want a low-maintenance style that can withstand the heat and humidity.
Pixie cut: For those who want a shorter style, a pixie cut is a chic and easy-to-maintain option that can also help keep you cool in hot weather.
Beachy waves: Loose, natural-looking waves are a popular choice in Santa Barbara, as they complement the laid-back, beachy vibe of the area.
Ponytail or bun: When in doubt, a simple ponytail or bun is a practical and stylish choice that can keep your hair out of your face and off your neck in hot weather.
Hair coloring options in Santa Barbara
Whether you're looking to cover up gray hairs, add dimension to your locks, or try a bold new color, there are plenty of hair coloring options available in Santa Barbara. Some popular choices include:
Balayage: This freehand coloring technique creates a natural-looking, sun-kissed effect that is perfect for Santa Barbara's beachy atmosphere.
Highlights: Whether you want subtle, face-framing highlights or bold, chunky highlights, a skilled stylist can create a look that flatters your skin tone and hair type.
All-over color: If you want a complete color change, all-over color can give you a dramatic new look.
Hair treatments and styling services available in Santa Barbara
In addition to haircuts and coloring, many hair salons in Santa Barbara offer a variety of hair treatments and styling services to keep your locks looking their best. Some popular options include:
Keratin treatment: This smoothing treatment can tame frizz and add shine to your hair, making it more manageable in humid weather.
Blowout: A professional blowout can give you salon-worthy hair that lasts for days, making it a popular choice for special events or nights out.
Updos: From elegant chignons to messy buns, a skilled stylist can create a variety of updos that suit your personal style and occasion.
Extensions: Hair extensions are another popular service offered by many hair salons in Santa Barbara. Extensions can add length and volume to your hair, allowing you to achieve the look you desire.
Bridal hair and makeup services in Santa Barbara
If you're planning a wedding in Santa Barbara, there are plenty of hair and makeup artists who specialize in bridal beauty. Many hair salons offer bridal packages that include hair and makeup services, as well as trials and consultations to ensure that you look your best on your big day.
Men's haircuts and grooming services in Santa Barbara
Men in Santa Barbara can also find plenty of options for haircuts and grooming services. Many salons offer men's haircuts, beard trims, and shaves, as well as scalp treatments and facials to keep skin looking healthy and youthful.
Hair stylist pricing in Santa Barbara
The cost of a hair stylist in Santa Barbara can vary depending on the salon, stylist, and services provided. On average, a basic haircut can cost anywhere from $50 to $100, while coloring services can range from $100 to $300 or more. Bridal hair and makeup packages can also be more expensive, with prices ranging from $200 to $500 or more.
Tips for maintaining healthy hair in Santa Barbara
To keep your hair looking its best in Santa Barbara's hot and dry climate, consider the following tips:
Use a moisturizing shampoo and conditioner to combat dryness and breakage.
Wear a hat or use a UV protectant spray to shield your hair from the sun's harmful rays.
Avoid using heat styling tools too frequently, as they can cause damage to your hair.
Get regular trims to prevent split ends and maintain healthy hair.
Frequently Asked Questions (FAQs)
How often should I get my hair cut?
It depends on your hair type and style, but most people benefit from a trim every 6 to 8 weeks.
Can I book a consultation with a hair stylist before my appointment?
Yes, many hair salons offer consultations to ensure that you and your stylist are on the same page regarding your hair goals.
What should I bring to my hair appointment?
Bring a photo or two of your desired hairstyle, as well as any specific instructions or preferences you have for your stylist.
What should I do if I'm not happy with my haircut or color?
If you're unhappy with your hair services, speak up and let your stylist know. Most salons will work with you to fix any issues or concerns.
Can men get hair coloring services in Santa Barbara?
Absolutely! Many salons offer hair coloring services for men, including highlights, lowlights, and all-over color.
Conclusion
Finding the right hair stylist in Santa Barbara can be an enjoyable and rewarding experience, as there are plenty of talented professionals who can help you achieve your hair goals. Whether you're in need of a simple haircut or a complete hair transformation, there are plenty of options available to suit your personal style and budget. By following these tips and doing your research, you can find the perfect hair stylist to help you look and feel your best.