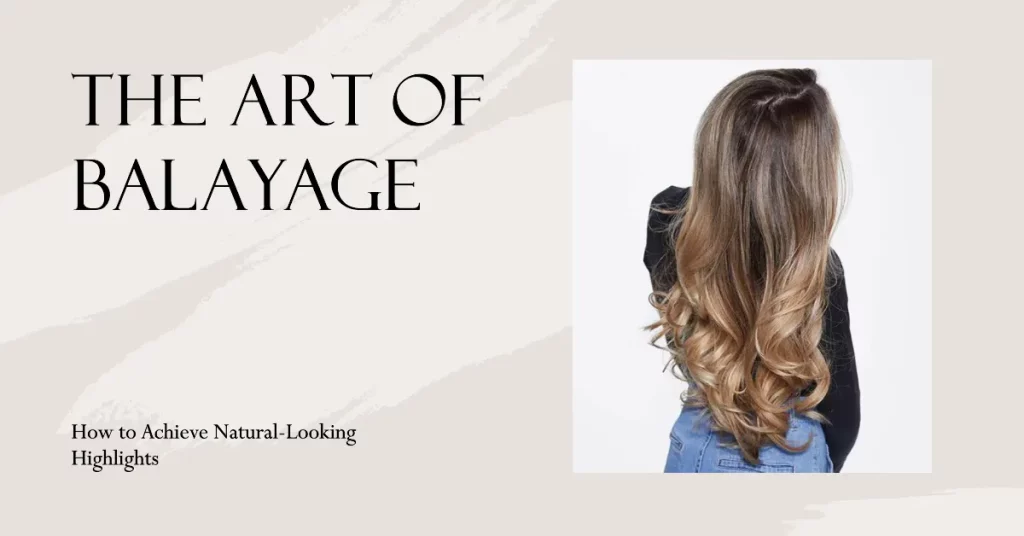 If you're looking for a way to transform your hair with stunning, natural-looking highlights, balayage might be the answer. As a professional hairstylist in Santa Barbara, CA, I specialize in creating gorgeous blonde hues for my clients. In this article, we'll explore the art of balayage and how it can help you achieve the perfect sun-kissed look.
What is Balayage?
Balayage is a French word that means "to sweep" or "to paint," which perfectly describes this hair coloring technique. It involves hand-painting highlights onto the hair, creating a soft, graduated effect that looks more natural than traditional foil highlights. Balayage is especially popular for blondes, as it can help to create a perfect shade of blonde that suits your individual style and needs.
Benefits of Balayage
There are several reasons why balayage is a popular choice for achieving natural-looking highlights:
Low maintenance: Since the highlights are hand-painted and not applied from the root, balayage requires less upkeep than other coloring techniques. This means you can enjoy your beautiful highlights for longer without needing frequent touch-ups.
Customizable: Balayage allows your hairstylist to create a personalized look that complements your individual features, such as your face shape and skin tone.
Versatile: This technique works well on various hair lengths and textures, making it a popular choice for clients with different hair types.
How to Prepare for Your Balayage Appointment
Before your balayage appointment, it's essential to schedule a consultation with your hairstylist. This will give you an opportunity to discuss your desired look and any concerns you might have. Additionally, your hairstylist will assess your hair's current condition and make recommendations based on your needs.
To help your hairstylist create the perfect balayage, consider the following:
Bring inspiration photos: Collect pictures of balayage styles you like to help your stylist understand your desired look.
Be open to suggestions: Your hairstylist is an expert in creating beautiful, natural-looking highlights. Trust their advice and recommendations.
Caring for Your Balayage Highlights
To maintain the health and vibrancy of your balayage highlights, follow these tips:
Use professional hair care products: Invest in essential products to help preserve your color and keep your hair looking its best.
Protect your hair from heat: Heat styling can damage your hair and cause your color to fade. Use heat protectant products and avoid excessive heat styling.
Schedule regular salon visits: Visit your hairstylist every 8-12 weeks for maintenance appointments to keep your balayage looking fresh and vibrant.
Enhancing Your Balayage with Additional Services
Consider combining your balayage with other services, such as a Brazilian blowout or hair extensions, to enhance your overall look and achieve the hairstyle of your dreams. A Brazilian blowout can help to smooth and tame frizzy hair, making your balayage even more stunning. On the other hand, hair extensions can add length and volume to your locks, complementing your balayage highlights and creating a more dramatic transformation.
The Bottom Line
The art of balayage is an excellent way to achieve natural-looking highlights that are both low maintenance and customizable. By working with an experienced hairstylist like myself at krystakay.com, you can ensure that your balayage turns out exactly as you envisioned. Don't hesitate to book an appointment today and start your journey towards gorgeous, sun-kissed hair.
"Balayage is an art form that allows hairstylists to create beautiful, natural-looking highlights tailored to each client's unique features."

– Krysta Kay, professional hairstylist in Santa Barbara, CA
For more information on hair care, styling, and coloring techniques, explore the following articles:
Frequently Asked Questions
1. How long does a balayage appointment take?
A balayage appointment can take anywhere from 2 to 4 hours, depending on the complexity of the technique, the length and thickness of your hair, and whether any additional services are being performed, such as a haircut and color or a Brazilian blowout.
2. How much does balayage cost?
The cost of balayage varies depending on factors such as the hairstylist's expertise, your location, and the specific techniques used. It's best to schedule a consultation with your hairstylist to discuss your desired look and receive a personalized quote.
3. How often should I have my balayage touched up?
Balayage is generally low-maintenance, and touch-ups are typically needed every 8-12 weeks, depending on your hair growth rate and personal preferences. Regular salon visits can help maintain the vibrancy and health of your balayage highlights.
4. Can I have balayage if I have curly or wavy hair?
Yes, balayage is suitable for various hair types, including curly and wavy hair. The hand-painting technique allows your hairstylist to customize the placement of the highlights to complement your hair's natural texture.
5. Can I get balayage with hair extensions?
Absolutely! Balayage can be combined with sew-in hair extensions to create a seamless and stunning look. Your hairstylist will carefully blend the balayage highlights with your hair extensions to ensure a natural appearance.
6. Will balayage damage my hair?
Balayage is generally less damaging than other hair coloring techniques because it doesn't involve the use of foils, and the highlights are not applied directly to the roots. However, it's essential to work with a professional hairstylist who can assess your hair's condition and choose the right products and techniques to minimize damage. Following a proper hair care routine can also help maintain the health of your hair after balayage.
7. Can balayage be done on gray hair?
Yes, balayage can be an excellent choice for individuals with gray hair. The technique allows for a softer, more natural-looking color transition, which can be particularly flattering on gray hair. Discuss your specific needs and preferences with your hairstylist during a consultation to determine the best approach for your hair.