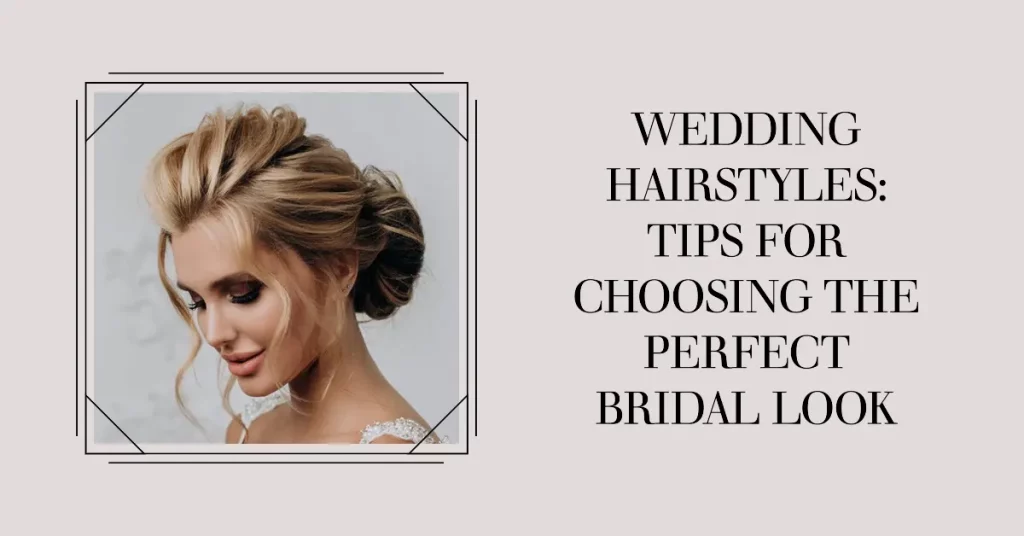 Your wedding day is one of the most important days of your life, and your hairstyle plays a big role in making you feel and look your best. As a professional hairstylist in Santa Barbara, CA, I specialize in blondes and offer various services, such as haircut and color, Brazilian blowout, and sew-in hair extensions. In this article, we'll discuss tips for choosing the perfect bridal hairstyle for your big day.
Consider Your Wedding Theme and Dress
Your wedding hairstyle should complement the overall theme and style of your wedding. For example, if you have a vintage-themed wedding, consider classic updos or retro waves. Similarly, choose a hairstyle that complements the neckline and design of your dress. If you have a strapless dress, consider wearing your hair down to balance the look.
"The perfect bridal hairstyle should complement your wedding theme, dress, and personal style."

– Krysta Kay
Consult with a Professional Hairstylist
Schedule a consultation with a professional hairstylist to discuss your wedding hairstyle options. Bring photos of hairstyles you like, as well as pictures of your dress and any hair accessories you plan to wear. A professional hairstylist will help you determine the best look for your hair type, face shape, and overall aesthetic.
Consider Hair Extensions for Added Length and Volume
If you have thin or short hair and dream of a fuller, more voluminous wedding hairstyle, consider hair extensions. Sew-in hair extensions can add length and volume to your natural hair, giving you more options for your bridal look. Consult with a hairstylist who specializes in hair extensions to determine the best type and application method for your hair.
Prep Your Hair for the Big Day
To ensure your hair looks its best on your wedding day, consider a haircut and color appointment a few weeks before the event. This will give your hair enough time to settle and allow for any necessary adjustments. If you plan to wear your hair down, consider a Brazilian blowout for smoother, frizz-free locks.
Plan a Hair Trial
Schedule a hair trial with your chosen hairstylist to test out your preferred wedding hairstyle. This allows you to see how the style looks with your dress and accessories, and make any necessary adjustments before the big day.
Wedding Hairstyle Ideas
Classic updos: A timeless choice, perfect for formal weddings.
Romantic waves: Soft, flowing waves add a touch of romance to any bridal look.
Braided styles: Intricate braids can create a unique and elegant hairstyle.
Half-up, half-down: This versatile style works well with various dress necklines and accessories.
For more inspiration, check out my portfolio or explore celebrity-inspired hairstyles for ideas that you can adapt for your special day.
Consider Your Hair Accessories
Choose hair accessories that complement your hairstyle and wedding theme. Some popular options include:
Tiaras or headbands: These can add a touch of sparkle and elegance to your bridal look.
Hairpins or combs: Ideal for securing updos or adding subtle detail to your hairstyle.
Hair vines: These flexible, versatile accessories can be woven into braids or updos for a whimsical touch.
Fresh flowers: A classic, romantic addition to your wedding hairstyle, perfect for outdoor or boho-themed weddings.
Ensure you bring your chosen hair accessories to your hair trial to see how they work with your desired hairstyle.
Take Your Face Shape and Hair Type into Account
When selecting your wedding hairstyle, consider your face shape and hair type. Some hairstyles may be more flattering for certain face shapes or work better with specific hair textures. For example, if you have a round face, you might want to choose a hairstyle that adds height and elongates your features. A professional hairstylist can help you choose the best haircut and color for your face shape and advise on which hairstyles will suit your hair type.
Choose a Hairstyle that Fits Your Lifestyle
Your wedding day is a special occasion, but you should still feel comfortable and confident with your chosen hairstyle. If you usually wear your hair down, you might feel more at ease with a half-up, half-down style or loose waves. Alternatively, if you're accustomed to having your hair up, a classic updo may be the perfect choice for you. Consider your lifestyle and preferences when selecting your bridal hairstyle to ensure you feel your best on your big day.
Prioritize Hair Care Leading Up to the Wedding
Healthy hair is the foundation for a beautiful wedding hairstyle. In the months leading up to your wedding, prioritize hair care by:
Regularly trimming your hair to prevent split ends.
Deep conditioning your hair to keep it soft and nourished.
Avoiding excessive heat styling to prevent damage.
Following pro-tips for caring for newly-colored blonde hair if you plan to color your hair before the wedding.
By following these tips and working with a professional hairstylist, you can achieve the perfect bridal look for your wedding day. Your hairstyle should not only complement your dress and wedding theme but also make you feel confident and beautiful as you celebrate your love with friends and family.
FAQs
Q: How far in advance should I book my wedding hairstylist?
A: It's recommended to book your wedding hairstylist as soon as you have your wedding date set. Ideally, you should book your hairstylist at least 6-8 months in advance, as popular hairstylists can get booked up quickly, especially during peak wedding season.
Q: When should I schedule my hair trial?
A: Schedule your hair trial 2-3 months before your wedding day. This allows enough time to make any necessary adjustments and ensure you are happy with your chosen hairstyle. Remember to bring your hair accessories and any inspiration photos to your trial.
Q: Should I wash my hair the day of my wedding?
A: It's generally best to wash your hair the day before your wedding, rather than the day of. Slightly dirty hair holds styles better and is easier to work with than freshly washed hair. However, if you have very oily hair, consult with your hairstylist for personalized advice.
Q: Can I change my hair color before my wedding day?
A: If you want to change your hair color before your wedding day, it's best to do so at least 2-3 weeks before the event. This allows enough time for your hair to settle and for any necessary adjustments. Consult with a professional hairstylist for advice on the best color for your skin tone, face shape, and desired bridal look.
Q: How can I make sure my wedding hairstyle lasts all day?
A: To ensure your wedding hairstyle lasts throughout the day and night, work with a professional hairstylist who will use the appropriate products and techniques to secure your hairstyle. Additionally, consider a touch-up kit with hairpins, hairspray, and any other necessary items for quick fixes during the event.